The Home Office Organization Market – Don't Miss Out!
2022-03-28
As modern offices and work become more digitized, the option of working from home is more popular with workers all over the world. Young urbanites in small apartments have had to get particularly creative in carving out a workspace, perching with laptops from bedrooms, living rooms, studying, etc.

Keeping a tidy workspace can improve work productivity. Getting rid of clutter alleviates anxious feelings so you can focus on your work instead of cleaning. Having a spot for everything will make you feel calmer and ready to tackle any project that comes your way. This is an excellent time for resellers to promote a comprehensive line of desk organization products along with office storage solutions offered by Sollent. We will provide wholesale storage for home offices ranging from cable raceway and utility cart with wheels to CPU holder under desk and headphone stand, etc. If you've been looking for innovative products at the most competitive prices, you just found Sollent, as a China cable management, desk organizer, wall organizer & other storage solutions supplier, and manufacturer we will provide you with additional support that includes professional marketing and merchandising services.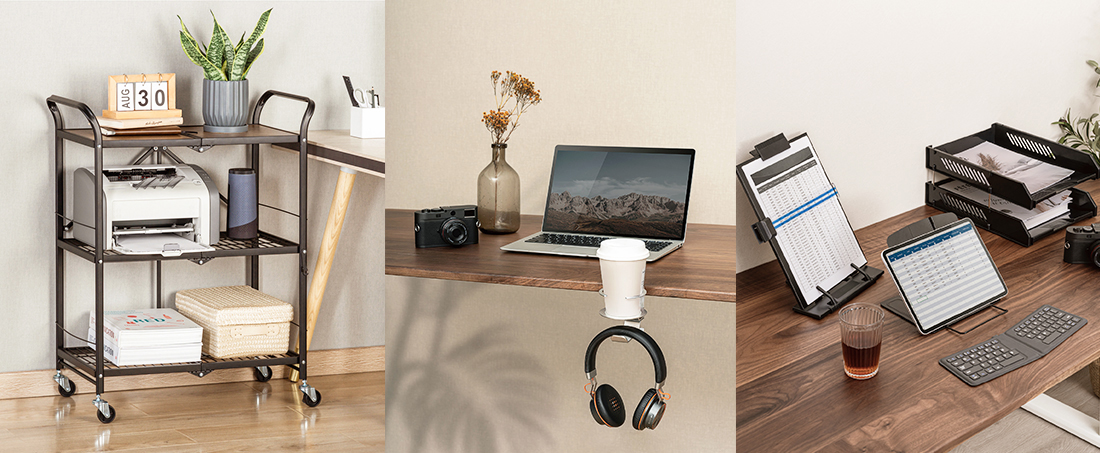 The Expanding Office Storage and Organization Market
The market for office organization products is expanding, which means more opportunities for resellers. According to market data, the current Global Office Storage and Organization Market is expected to grow from $3 Billion USD to nearly $5 Billion USD by 2027. This equates to the market expanding at a CAGR of 7.3 percent. Many large industry-leading furniture companies see the majority of their revenue coming from systems and storage products, including filing cabinets and desks. Behind their success is a hint of the enormous market potential for office/home office organization products.

With the trend of working from home, people also began to pursue the comfort and neatness of the workplace. Some products such as wire organizers, office folder organizers, desktop organizers, and electronics organizers are becoming more and more important.

There are a bunch of videos on youtube sharing the process they did office cable management system and you can get some inspiration. When purchasing storage & organizers, customers will pick the colour and materials of organization products to fit their looks of desk or room. Sollent will absolutely offer you a wide range of cable management solutions that meet the various needs of users.

No matter it's wall-mounted storage, desktop organization, or under-desk organization, we have the fittable storage solution you need. Whether it's document holders, media player mounts, or wire management, we have a great organization & storage collection.



Why do Consumers Purchase Office Organization Items?
Nowadays, employers and employees alike are beginning to realize the benefits of having a clean and organized work environment. More and more companies are also implementing Clean Desk Policies (CDP) which requires all employees to have clean desks at the end of the day, free of clutter and paperwork. This has also contributed in part to the increased demand for office storage products.

At the same time, with the rise of WFH, the demand for home office setup is gradually increasing. Some storage products are required to help them protect the wiring on the wall, organize the PC wiring, set the uplift desk CPU holder, and documents storage. Some media players should also be in their places, which will make some freelancers or home multimedia offices become more convenient and comfortable.



Increased Productivity
A clean workspace is essential for everyone. According to one study, our brains prefer working in an environment that is in order and constant visual reminders of clutter can reduce our ability to focus.
If you have things like hard drives or speakers or anything that requires a big block, media player mounts, and cable management kits might help you. Cable management organizes and de-clutters workspace by hiding, storing, and managing wire, cable and power strips - while eliminating tripping hazards - making it easier to clean under and around desk areas. Protect your cables and protect your emotion. When people clean up their work area they can regain focus and process information better resulting in increased productivity.

Pegboard organizers and wall-mounted storage bins will be great combined. Desk Drawers/trays and CPU holders should be put in any place which you think is convenient, customers can freely combine any organizers, Sollent can supply almost all the storage collections.



Protect Valuable Information
Unfortunately, these days data breaches are a common occurrence. The average cost was USD 1.07 million higher in breaches where remote work was a factor in causing the breach, compared to those where remote work was not a factor. And careless put files everywhere will cause this.

Paper document organizers and other desk organizers are necessary. As an excellent manufacturer in China, Sollent has enough energy to provide you with high-quality products at competitive prices.



Improving Office Happiness
Addressing all of the above adds up to sustainable happiness. Your home office gives you the freedom to be available for family, friends, and other passions -- all while being your best and most productive self for work each day. This is not a work-life balance but rather a blend where work and life can exist in harmony.

There are additional benefits not mentioned above, including peace of mind and employee satisfaction. What better way to catch these benefits than for the employer and employee to purchase office organization products? So if you are finding a great organizer manufacturer or factory, come to contact Sollent.


Sollent's Office Storage Solutions
Sollent has created a comprehensive line of office storage solutions, including desktop organizers, file cabinets, storage rack, and cable management that assists users to create an organized efficient office and orderly desktop. These office organization products not only provide excellent solutions for customers but will help your business increase sales and profits while establishing a foothold in the growing office organization products market.

Take a look at our comprehensive line of office organization products. If you have any questions or want more information about these exciting products, contact your Sollent representative today or email us anytime at info@sollent.cn